Although they are a fundamental part of our daily lives, we are hardly aware of the role of the data center in securing our internet usage
When we think of the Internet, we tend to think of it in terms of accessibility to a whole world of information and possibilities. Almost all of our society interacts, consciously or unconsciously, with a computer that facilitates their lives, whether through Internet access itself or through all the processes in which information technology has become fundamental (goods, communications, transport, work, education, medicine, etc.). Despite this dominant role of the digital world in our daily lives, we are barely aware of the real technological tangle that makes everything work in detail. Behind our Internet connection, a multitude of nodes, supported by players such as data centers or fibre cables, work 24 hours a day, 365 days a year to ensure that the connection and service are guaranteed. Today we want to clarify the role of one of these players: the data center.
To understand its important role, we must first define what a data center is. Thus, we can say that a data center is, in short, a physical technological facility that serves to house servers, networks, storage and a series of other technological and computer equipment that enable the correct operation of a digital service, be it that of a service provider to individuals and companies or that of a company itself. Thus, the equipment installed in a data center, whose size can vary from a small cabinet to an entire building, contains and provides the essential tools to guarantee access to the Internet, the connectivity of different systems used by individuals or companies, the operation of applications for our computers and mobile phones, or the storage and handling of millions of critical data.
It is on this last point, data, that we can explain in a very practical way why these large digital stores are so relevant. A whole army of routers, switches, firewalls, servers, storage systems and application delivery controllers work incessantly in the shadows to give us accessibility and protection in the use of the billions of data we exchange and manage over the Internet. When we talk about cloud services, we overlook the fact that in order for our information to stop taking up space on our devices, it has to be stored somewhere else. Well, that place is the data center. Can you imagine if these places were not secure, robust and accessible? An incalculable volume of private data (bank account details, medical, employment, legal…) would be accessible for fraudulent use by third parties without our consent. Do you begin to understand why this big unknown is so relevant?
Well, this infrastructure is, by nature, evolving in technological terms and, over the last few years, it has been mutating from a static infrastructure made up of traditional physical servers with limited capacities towards a distributed network, combining traditional networks with software-defined networks, the latter being much more flexible than traditional networks, allowing, among other things, improved cloud services. Thus, all data centers are interconnected in networks, whether public or private, providing communications links.  This means that, for example, a company is able to offer services such as email and file sharing for its employees, productivity applications and programmes, customer relationship management (CRM), enterprise resource planning, databases, artificial intelligence environments, communication services, etc.
What makes up a data center?
As you will have understood at this point, a data center is in turn made up of multiple devices that, together, function as a technological ecosystem; each one of them being responsible for the correct functioning of a fundamental part of the whole.
Thus, within this techy symbiosis, we can appreciate the following components: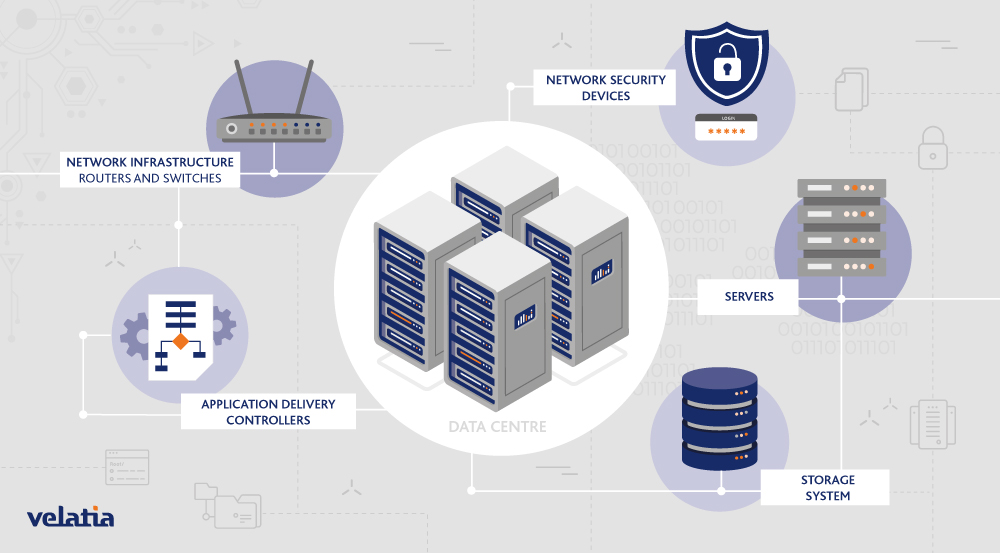 Network infrastructure: Composed of routers and switches, this connects the different servers, whether physical or virtual, together with the rest of the data center services.
Network security devices: These systems, including firewalls and intrusion protection, protect access and ensure that only accredited users can use the facilities.
Storage systems: These are the part responsible for storing the billions of data that the network infrastructure needs to operate.
Servers: They guarantee the processing, memory, storage and network connectivity of the services for the implementation of, for example, a website or an app.
Application delivery controllers: They are in charge of maintaining the performance of the applications, their recoverability in case of critical errors and their availability in an automatic way.
In addition, and bearing in mind how crucial it is to guarantee their continuous operation in order to avoid service failures, data centers include complementary power supply systems, uninterruptible power supply systems (to avoid disasters due to a possible electrical disconnection, as these require huge amounts of guaranteed energy), air cooling and ventilation systems and chemical retardants (imagine the heat generated by your computer multiplied by 1000), fire suppression and extinguishing systems (not to mention the disaster that a fire can cause in such a facility), or physical and virtual security measures (network security software is combined with physical security measures to prevent fraudulent access to the installation), etc…
However, there are different types of data centers, taking into account variables such as which service it is intended for, whether it is shared by one or several organisations, the technology of use…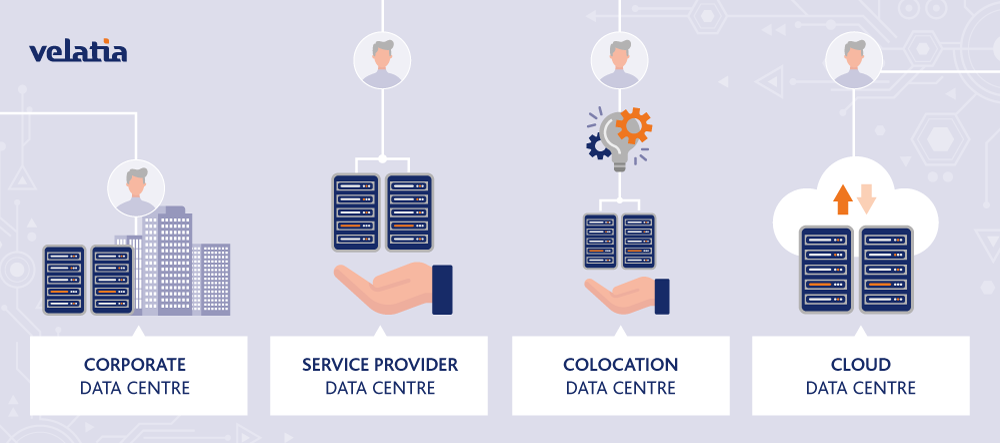 Corporate data center: owned and operated exclusively by a company.
Service provider data center: leased to a third party on behalf of a company as an alternative to ownership.
Colocation data center: spaces, within a data center, rented by a third party company to customers.
Cloud data center: Those based on hosting data and applications through a cloud service provider, such as AWS, Azure, IBM Cloud…
How does a data center participate in bringing the Internet to your home?
If there is anything in nature that can be compared to the Internet, it is the web that is painstakingly woven by that arachnid we are always trying to avoid. The tangle of cables and telecommunications behind the web is as extensive as it is useful. The more robust, the more stable, faster and more efficient our connection will be.
Access to this "spider's web" is gained by contracting an Internet service through a service provider (telephone companies), who use their own transport network to direct communications to your home. But even here there are nuances, because it can be a fibre optic network, coaxial cable or through wireless means. This depends on the type of service contracted with the operator.
Once this connection reaches our front door, the information must be processed and disseminated for use, and this happens thanks to the function of two appliances with which we are almost as familiar as we are with the dishwasher or the telephone: the router and the modem. Although they may look the same to you, they both have their own peculiarities. The router is the advanced version of the modem, and allows us to connect several devices at the same time: mobile phone, computer, tablet, television, console… This is the most widespread appliance in homes today.
Well, now we know that the network arrives at our home through a tangle of communications and that this is decrypted thanks to an appliance. So far so good. But the Internet is not a one-way channel, quite the opposite. The flow of data from one side to the other is what allows us, for example, to carry out a search. We send out a packet of data to get a response that comes back, and so on with each movement we provoke with a click or a video playback. But how does this wonder happen?
The answer lies in the information that our router sends to and receives from the data centers, whose function is key to the correct multipoint information traffic, as they are responsible for gathering information from all users in an area and uploading it to the network. That is why we will find data centers at local, regional or national level, depending on the type of use. And it is from these centers that the information we are looking for is transported to any server anywhere in the world. In such a way we are able to find the menu of our favourite restaurant or carry out the online transaction we were looking for.
Do you have any doubts? Don't worry, we are sure that this video will make it much clearer: